Go Green Baby Company is based out of Northern Colorado...like me! Go Green Baby Company is an online retailer of natural and green products for your little one. You can buy many wonderful and well-known green baby products, as well as items by Go Green Baby Company. Which brings us to the Nifty Nappy One Size Fitted Diaper! Katie, owner of Go Green Baby Company recently sent me one of these adorable diapers!
Here's the one Katie sent me...she must've read my mind because this is one of my favorites of all the choices! I have it snapped on the smallest setting.
Here are the highlights and specs for this diaper from Go Green Baby Company:
- Made with natural materials.
- Hidden elastics for ultimate containment and comfort.
- Overlapping front snap for custom fit.
- One size will fit all your babies and toddlers.
- Breathability will help eliminate unwanted diaper rashes.
- When paired with a woolie they are practically bullet proof!
Materials:
BODY:
- Outer layer: cotton knit - makes for adorable baby bums!
- Sandwich layer: Organic Hemp fleece - very absorbent.
- Inside layer: Microfleece - super soft, and wicks moisture.
LAY IN INSERT:
- Organic Hemp Fleece
- Organic Bamboo Velour
- This will fold in half and lay in the diaper
Bamboo/Hemp Information:
Organic Bamboo Velour is 70% Organic Bamboo Viscous / 30% Organic Cotton
Organic Hemp Fleece is 45% Organic Hemp / 55% Organic Cotton
These make the Nifty Nappy…
- Super absorbent with less bulk
- Anti-bacterial
- Anti-microbial
- Very durable
Here is the diaper on the largest setting.
As soon as I opened the bag and pulled the diaper out I was excited. I couldn't wait to get this diaper prepped and put it on Immie. Feeling how soft it is inside and out made me want a sweatshirt made just like it! The quality of the craftsmanship really stands out in this fitted diaper. The serging around the edge is impeccable. The diaper is symmetrical and the snaps are all perfectly even...and the very high quality resin kind! Snapping and unsnapping is super easy. Another thing that stood out were the gussets. There is no scratchy elastic...it's all hidden...it's just soft micro fleece touching the bum! The bamboo velour side of the insert is sooo super soft. And again, I really love the Baby Giraffe print! My first impression of the Nifty Nappy was certainly a great one!
Washing
Katie sent easy-to-understand care instructions. She says to wash and dry the diapers 3 to 5 times before initial use, in order to remove the natural oils. They will reach full absorbency after several more washing and drying though. Use enzyme free and cloth diaper safe detergent. Instructions say to do a cold or warm rinse and then a wash on hot with detergent and a few drops of tea tree oil (if you prefer). You can line dry or use in the dryer. So washing is really easy...nothing extra special here. I like that! I prepped the diaper with 3 wash and dry cycles with my regular laundry. I didn't use hot though, just warm. It fluffs up nicely. I dried on medium heat every time with a full load of laundry and it took about 20 minutes to dry. Every wash since then has been with my diaper loads and there has been no staining or dinginess. Yay!
How it fits Immie
This diaper fits my skinny minnie so well! Nifty Nappy diapers are designed to fit below the belly...and they do, which makes it easy to put a cover over. It was really easy to adjust to fit Immie. You can see from the pictures that it's not on the smallest setting...which is great because even my Size One Thirsties (6-18lbs) Duo Wrap covers are still on the smallest setting. What does that mean? It means these really will fit snug on a 7lb newborn. Go
HERE
to see a short video on getting the best fit on a newborn. Go Green Baby Company recommends using a Thirsties Duo Wrap cover or a woolie with their Nifty Nappy. We don't use wool, but the Thirsties Duo Wrap is my go to cover. It fits over the Nifty Nappy well and overall the fitted diaper and cover together make a really trim diaper.
Thirsties Duo Wrap cover size one.
The first time I put it on Immie, it was nighttime. She wore it about 12 hours...rare...but it was great getting to sleep in. When we woke in the morning there were no leaks! The Nifty Nappy was pretty soaked but the top of the waist was still dry...awesome...I didn't actually have to touch a wet diaper! Sometimes she gets a little irritated with overnight diapers. Immie wasn't pink, even after having the diaper on that long. I'm starting to learn that bamboo and hemp are great on extra sensitive skin....I've got a little ginger baby so that's very important to me. Also, considering I only minimally prepped the diaper...it holds pee well and I can't wait to see how much more absorbant it gets.
My Overall Opinion
The Nifty Nappy is a really great fitted diaper. The prints it's available in are adorable! I haven't invested in too many fitted diapers yet because the few I had before the Nifty Nappy are really bulky and hard to fit under my covers...they are also so thick that they get an ammonia smell really easily. I am in love with the Nifty Nappy because it has everything I want in a fitted. It's easy to fit to my baby, not bulky, fits under my covers, and doesn't hold smells. I will gladly pay $23.50 for another...and then some more! After all, I still need the Rainbow, Bright Birds, Owls, Red Star, Unique Zebra, and ZigZag prints...and maybe some more.
Look how cute Immie is and how adorable the Nifty Nappy is on her!
The red mark on her thigh is from another diaper that I will not name, please disregard it.
Go Green Baby Company also makes the Bitty Bums Newborn Fitted Diaper. It's the same design as the Nifty Nappy but designed to fit until your little one is ready for the one size. It evens fits preemie babies! This is a must-have for the hospital bags. Go Green Baby Company is dedicated to providing the best in green products for your baby. One of my favorite items is their
Accessory Package
, which has everything you need to make cloth diapering a breeze. They have a great Newborn Cloth Diaper Rental program and a Cloth Diaper Starter Package....no need to spend hours figuring out what you need! Do your friends and family want to help get you started but they don't know what to buy? Set up a Gift Registry with Go Green Baby Company. Shipping is always a flat $5 for any order under $49 and it's free over $49!
Save 10% on the Nifty Nappy or Bitty Bums now through August 24th!
Discount code: DaniSueDreams
Wanna Win It?
The Nifty Nappy will be up for grabs during the Flufftastic Summer Celebration starting August 10th at 12:01 am.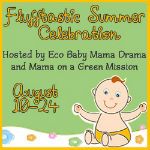 So stay tuned.....
Please Note: I received samples of this product and my
review is based solely on my personal experience and opinion of using it. I was not compensated to give this review.