My future sister-in-law referred
Sweet Pea Boutique
to me after she met Trista, owner and creator, at one of the local toddler play groups in our area. We met for coffee and sat for over hour just chatting about being mommies and talking about Sweet Pea Boutique. Trista makes many different adorable items for babies and children.
I was excited to get to review a
Sweet Pea Boutique Fabric Teething Necklace
. Immie is teething big-time right now, and she seems to prefer chewing on fabric, so this was perfect! It was hard deciding which one....Trista brought a bunch for me to choose from. They are all so pretty! I went with a turquoise and white floral pattern. It ties on with a coordinating white ribbon.
Fabric Teething Necklace Specifications:
- 100% cotton fabric.
- Natural wood beads.
- Free of BPA, phlalates, plasticizers, rubber, and other toxins commonly found in baby teethers.
- Wooden beads are sewn and knotted securely in fabric.
Whether I'm wearing the necklace or not....Immie definitely enjoys it. She's really interested in how her hands and wrists work right now...and she'll grab it and just twist it around in amazement....it's so cute! Of course she loves chewing on it. I love it because it looks great on and keeps Immie from pulling down my shirt (if there's no necklace then she's grabbing the shirt and pulling...haha)!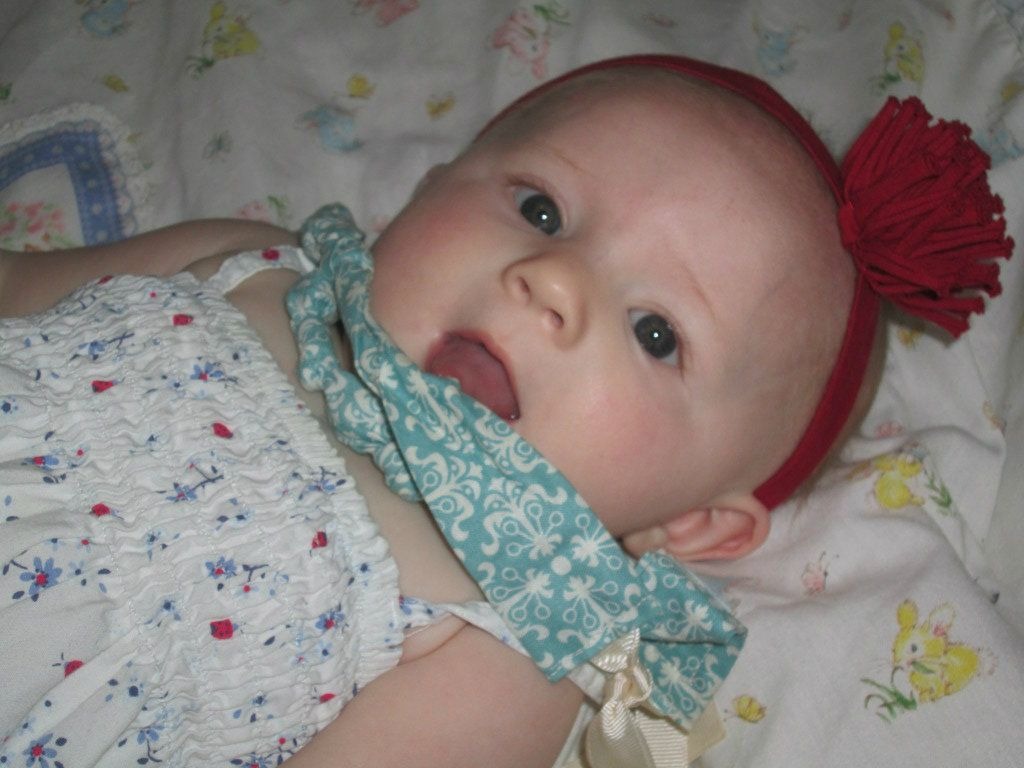 Sweet Pea Boutique has many other wonderful and adorable things for kids! Trista makes the cutest little bow ties in many different designs. She makes boys shorts, girls peasant dresses, hair bows, custom photo frames and even sensory blankets for special needs children. If you don't see a fabric you want, or have one you'd like made into something, just message Trista and she'll be happy to accommodate. She welcomes custom orders! Here's a few of my personal favorites!
You can purchase a Fabric Teething Necklace from Sweet Pea Boutique on Etsy.
These gorgeous necklaces are only $10! Have some fabric you'd love made into a Fabric Teething Necklace? Send Trista a message HERE.
Wanna Win It?
Trista will be giving one lucky winner a $25 Sweet Pea Boutique gift certificate during the Green Family Giveaway Event starting September 15th!
Please Note: I received samples of this product and my

review is based solely on my personal experience and opinion of using it. I was not compensated to give this review.